---
Erddig Park
---
Erddig Park is a National Trust property on the outskirts of Wrexham. There are many entrances well signposted from the Wrexham Bypass and from within the town. A fee is charged for entrance to the well appointed walled gardens and Erddig House, a sumptuously decorated and furnished mansion, previously the residence of Squire Yorke, benefactor of the town.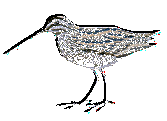 Entrance to the parkland surrounding the grounds is free and open year round. The park consists of extensive woodland and grazing meadow, with a small lake and many brooks and streams. A diverse selection of birds are to be found amongst the mixed habitat. Common woodland species are joined by migratory thrushes, Fieldfare and Redwing in winter. Dipper, Wagtails and Kingfisher are found on the streams. The Lake is only a few years old but an increasing list of birds may be found here including Heron, Coot, Moorhen, Mallard, Teal, Swan, Little Grebe, Great Crested Grebe, Ruddy Duck and Snipe.
---
Clocaenog Forest
---
This is an extensive area of coniferous woodland southwest of Ruthin covering over 50 Sq. Kilometres of moorland. Owned by the Forestry Commision it is interlaced with dirt track roads, cycle ways and footpaths. Access can be gained at many points on the B5105. There is picnic site and Visitor Centre (SJ037511) between Clawdd Newydd and Cerrigydrudion. Common birds include Goldcrest, Coal, Blue Tits, Chaffinch, Warblers, Redstart, Siskin and Redpoll. Occasional irruptions of Crossbill occur through the year. Sparrowhawk and Kestrel are common raptors, with Buzzard and Raven often seen here.
---
Ceiriog Forest
---
O.S. Map Reference SJ165383

This site can be accessed on minor roads from Llangollen, Froncysyllte, Chirk or Glyn Ceiriog. Glyn Ceiriog is easiest. From here take the road signposted for Nantyr, at a white cottage called Bryn Awel, vere right, through a gate marked Glyndyfrdwy into the forest. Park at the Forestry Commision Picnic Site. From here it is possible to walk or even drive, on dirt track unfenced road, across heather clad moor and eventually through deciduous woodland before emerging in Glyndyfrdwy village. This road is only suitable for 4 wheel drive of "Off Roaders" in wet weather conditions.

In the forest birds species are similar to those in Cloceanog. On the moor, Pipits, Skylark, Wheatear and Whinchat are common in summer with possibility of Ring Ouzel, Red and Black Grouse.




---