---
Llyn Gweryd
---
O.S.Map Reference SJ173550

From Llandegla village, take the minor road at the western end of the village. After about 2 Kilometres cross the B5431 road and carry on minor road for another 3 Kilometres. At a sweeping left handed bend, the valley drops away to the left, and to the right there is a radio mast. Walk towards the mast and around the edge of the wood to the lake.

A good selection of birds can be seen in the mixed woodland, while Mallard, Great Crested Grebe and Tufted Duck breed on the lake in summer. On the moor, Pipit ,Whinchat, Stonechat and Wheatear can be seen, with Kestrel,Sparrowhawk and Buzzard above.

In winter, Goldeneye, Pochard and Teal can be found on the lake. A footpath continues from the lake to the village of Llanarmon-Yn-Ial fringing woodland. Just past the lake on this path, a herd of deer is kept by a local farm.
---
Ty Mawr Co. Park and Froncysyllte
---
O.S.Map Reference SJ284414

The easiest access to the park is from Ruabon on the B5605 towards Newbridge.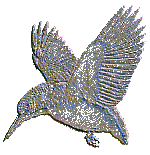 At Newbridge just before a sharp left hand bend, turn right underneath a railway bridge, the entrance is on the left.From the park, it is possible to walk along the river from the Newbridge Viaduct to Froncysyllte Aqueduct, a magnificent stroll in the Vale of Llangollen. Apart from the River, this walk goes through and alongside deciduous woodland and lush flower rich meadow and scrub. The potential for seeing a large range of birds, particularly in Spring and Summer is huge.

On the river, Mallard, Grey Wagtail, Dipper, Common Sandpiper and Kingfisher breed along with Sedge and Reed Warbler in the marshy backwaters. In the meadows, Whitethroat and Lesser Whitethroat, Meadow Pipits and Goldfinch are common, while in the woodland and fringes, Tits, Greenfinch, Bullfinch, Nuthatch, Treecreeper, Thrushes, Greater Spotted Woodpecker and Jay are resident, Warblers, Spotted Flycatcher and Redstart are among the summer breeders.
---
Afon Aled
---
O.S.Map Reference SH940658

From Llansannan walk north along the river through mixed woodland.

Grey Wagtail and Dipper on the river, with Woodpeckers, Tits, Finches, Redstart, Pied and Spotted Flycatcher, Warblers, Blackcap, Nuthatch and Treecreeper amongst the many woodland birds that can be found here. On the slopes of the surrounding Denbigh Moors, Pipits, Whinchat, Wheatear breed, Buzzard and Raven overhead.
---
Shropshire Union Canal
---
From the Froncysyllte Aqueduct it is possible to walk almost 5 Kilometres westwards along the canal towpath to the Trevor Inn (SJ242424). This is a beautiful walk through the Vale of Llangollen. See Ty Mawr for species.
---
---