---
Introduction
---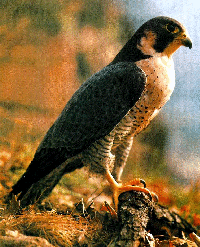 A Guide to Birdwatching in Clwyd
Compiled by D.R.Adams at the
North East Wales Institute of Higher Education
Welcome to the new HTML 3.0 Frame Based Version of The Clwyd Birds Web. The Main Menu in the upper left frame is always available and "clicking" on a selection will either transfer information directly to this frame or make further "Sub Menu" selections available in the lower left frame. The functionality of these pages are thereby enhanced. The colour selections and the frame sizes of the pages and menu's have been selected such that users who are still restricted 640x480 16 colour graphics systems can still use the pages effectively, although higher resolutions and more colours are better. The pages have been extensivley tested on PC based systems up to 1024X768 resolutions. The Author has no idea how they appear on either Apple Mac or Unix boxes. Anybody experiencing any problems or who would like to make any comments can Mail Me and I'll do my best to correct the problem. It is the author's intention to enhance and extend the Bird Pages as new technological innovations come along and my own knowledge of good birdwatching venues increases. At the present the author has no intention of changing the name of the Bird's Web to accomodate the recent boundary changes within the county. Enjoy!
---
---

In the interests of conservation and the environment this and other linked pages are made from:



---