---
The Dee Estuary
---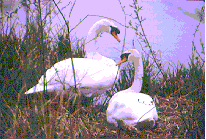 The Point of Ayr
---
---
---
---



O.S.Map Reference SJ125860

About 5Km east of Prestatyn on the A548 coast road turn off at Talacre on the beach road. There is limited parking at the beach head, but free parking 50 metres back at the Lighthouse Inn. At the beach, walk to the right along the sea wall towards the colliery about 1 Km to RSPB Hide.

Superb views of waders and wildfowl with Mallard, Shelduck, Oystercatchers, Curlew, Dunlin, Redshank, Lapwing, Ringed Plover throughout the year. In summer Sandwich, Little and Common Terns join the waders. Spring and Autumn brings vast numbers of migrating birds which can include Black and Bar Tailed Godwits, Knot, Teal, Pintail, Golden and Grey Plover, Greenshank, Spotted Redshank, Whimbrel and various Sandpipers. Some of these overwinter. Offshore, Terns, Gulls, Skuas, Fulmar, Gannets and Auks can be seen in Winter, along with various sea ducks including Red Merganser Common Scoter, Red Breasted Diver, Eider and Great Crested Grebes. Also in winter many raptors visit the reserve, these include Sparrowhawk, Merlin and Peregrine Falcons.

Back at the beach head turn left into the trees, shrubs and dunes of Talacre Warren. In summer, Wheatear, Whinchat, Stonechat, Warblers, Meadow Pipit and Skylark breed along with many common resident tits and finches. These are replaced in winter by Brambling amongst the resident finch flocks,Twite and often Snow and more rarely Lapland Bunting.
---
The New Gas Power Station
---
O.S. Map Reference SJ285710

This reserve was created in 1976 on land mitigated by the Central Electricity Generating Board, now National Power/Powergen. It is administered by the Deeside Naturalist Society and a Permit to enter the reserve MUST be obtained from the secretary. See Local Organisations Page. At the present time a new Gas Fired Power Station is under construction on the site. This doesn't seem to have affected the birds on the estuary and has resulted in additional land mitigation and the sinking of additional pool and wetland areas.

The reserve offers a number of wetland habitats and a pumping system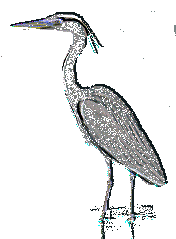 from a local stream allows the salinity of the water to be graduated from fresh to salt water resulting in a wider range of bird species. There are a total of 4 hides overlooking the different pools and the saltmarsh.
In addition to most of the ducks and waders at Point of Ayr, this reserve has Shoveler, Widgeon, Goldeneye, Bewick's Swan and much more impressive collections of Bar Tailed Godwit and Pintail. Raptors such Hen Harrier and Short Eared Owl visit in winter along with Merlin and Peregrine.There are numerous Canada Geese and in winter, Brent Barnacle and Greylag geese also occur. Northern finches and Buntings and Thrushes can be seen here in the winter months.
Spring and Autumn bring many birds (see Point of Ayr) but many waders such as Ruff, Golden Plovers are more frequent here. In summer, along with many common residents, Whinchat, Wheatear, Whitethroat Cuckoo and Yellow Wagtail breed.
---
British Steel Tern Rafts
---
Historically Common Terns have nested in Dee Estuary for at least 75 years. By the late 60's however, their hold was becoming increasingly tenuous. British Steel declared an area of their land a reserve in 1970, encouraged by local enthusiasts. To prevent the predation that had affected the terns breeding success in previous years, a number of rafts were built and floated onto cooling ponds, the terns quickly got the message and started breeding on the rafts. Over the years, the success of this project has been remarkable. In 1992, 315 pairs nested and produced 555 young.

Access to the reserve is by permit obtainable from:

		Personnel Services,
		British Steel Corporation,
		Shotton Works,
		Deeside,
		Clwyd.