---
An Overview of Clwyd
---
The Habitats of Clwyd and its surrounds
The county of Clwyd in North Wales has recently been split into 3 smaller County Councils, Flintshire, Denbighshire and Wrexham. A fourth County, Aberconwy and Colwyn, was formed from parts of north west Clwyd and north east Gwynedd. However, since the area formerly known as Clwyd still remains strong in the hearts and minds of the people of North East Wales and also because any but the most recent maps or literature would still refer to the area as Clwyd, it was decided not to change the name of these pages to reflect a new administrative status.

Clwyd offers the birdwatcher a wide and diverse range of habitats. Sand and shingle beaches on the North Wales Coast between Conwy and Talacre join the tidal estuaries of the Rivers Conwy, Clywd and the Dee. Although Conwy,Llandudno and the Great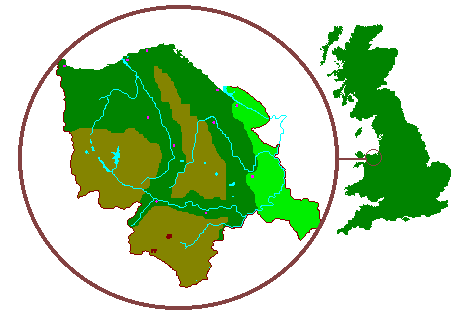 Ormes Head are actually in the county of Gwynedd, they are included here , firstly because they offer some interesting birdwatching and secondly because the the River Conwy forms a more natural boundry than the county line. The rich pasture land in the lower reaches of the Dee and Clwyd valleys graduate slowly into upland moorland and heath. The Denbigh and Llandegla Moors are important water catchment areas for the county and contain many natural lakes and man made reservoirs. Much of the uplands are forrested with conifer and pine while the rest is heather clad moorland. The county rises gradually to the west where it joins the Snowdonian Range in neighbouring Gwynedd and the Berwyn Mountains in the south, where Cadair Berwyn rises over 800 metres and forms the wildest and highest part of the county before falling to form the Powys border along the Tanat Valley. The county is bordered on it's eastern side by the gentler hills of Shropshire,and the Cheshire plains.
---
Birdwatching in and around Clwyd
Within such a vast range of habitats the opportunity exists to see a wide range of bird species throughout the year. From Autumn to Spring the most rewarding Birding is around the coastal estuaries. The Dee estuary is particularly rewnowned as an internationally important stop off point and over-wintering ground for vast numbers of waders and wildfowl. The summer months are most rewarding for river, woodland and moorland summer breeders as well of course for the large range of resident birds. The uplands are home during the summer months to a good range of raptors such as Peregrine Falcon, Merlin, Hen Harrier, Short Eared Owls and Buzzards and many of these can be seen again during the winter on the estuaries where they prey on the large concentrations of waders and resident and migratory finch flocks.

The Birdwatching Venues although by no means complete, contains a number of the most interesting Birding Venues in Clwyd and it's close surrounds. Although the Menu's are subdivided into various forms of habitat, the reality is that these habitats may co-exist i.e. lakes and rivers may be on upland moor or on lowland meadow. Where habitats overlap, information on both are given in the texts. Clicking on a particular selection will reveal information which includes the species likely to be encountered at key times of the year, directions on how to get there, and O.S. Map References.
---
---